Zinc ingot
| | |
| --- | --- |
| Item | Zinc ingot |
| Standard | ASTM, AISI, JIS, ISO, EN, BS, GB, etc. |
| Material | Zn99.99、Zn99.995 |
| Size | Zinc ingots have a rectangular trapezoidal shape with a size of 425 ± 5 220 mm × 55 mm. Each net weight is about 28 ± 2Kg. They are bundled with galvanized cold-rolled steel strips. Each bundle of 46 ingots has a net weight of about 1300Kg. |
| Application | It is mainly used in die casting alloy, battery industry, printing and dyeing industry, pharmaceutical industry, rubber industry, chemical industry, etc. Alloys of zinc and other metals have been widely used in electroplating, spraying and other industries. |
 

Grade

 

Chemical Composition(%)

 

Zn≥

Impurity≤

Pn≤

Cd≤

Fe≤

Cu≤

Sn≤

Al≤

total

Zn99.995

99.995

0.003

0.002

0.001

0.001

0.001

0.001

0.005

Zn99.99

99.99

0.005

0.003

0.003

0.002

0.001

0.002

0.010
Product properties:
Main physical and chemical properties: The melting point of zinc is 419.5 ° C, the boiling point is 907 ° C, and the density at 0 ° C is 7.13g / cm3. Zinc is brittle at normal temperature. When heated to 100 ° C to 150 ° C, zinc can be pressed into thin plates or drawn into metal wires, but when the temperature exceeds 250 ° C, it loses ductility.
Zinc can react with acids, bases and salts to form new salts. The surface interacts with oxygen, carbon dioxide, and water in the air to form dense basic zinc carbonate, which protects the product from being oxidized.
It is forbidden to use the packing and transportation tools with acid, alkali, salt and other corrosive zinc ingots, and it should be stored in a dry, ventilated, non-corrosive warehouse, and protected from rain. The melting temperature of zinc should not exceed 500 ℃ to reduce oxidation loss and volatilization loss. It should not be in contact with iron and other harmful metals when melting to avoid contaminating the product. Zinc oxide will be produced on the surface of the zinc solution during melting. Ammonium chloride can be used to make slag to improve the utilization rate of zinc. If the zinc ingot product has been wet by rain, it should be dried before adding the molten liquid, so as to avoid "blasting" to hurt people and damage the equipment.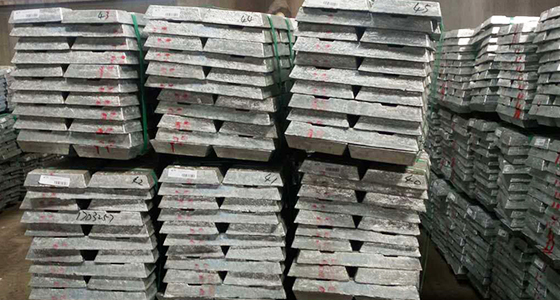 ---
Post time: Mar-16-2020